iPhone 11 Pro Max

repair at your Doorstep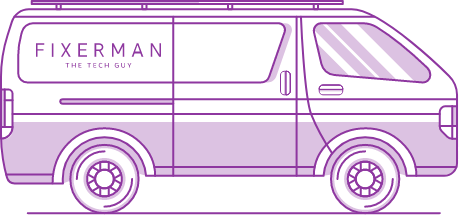 iPhone 11 Pro Max Repair in Dubai with Fixerman
Facing issues with your iPhone 11 Pro Max?
The iPhone 11 Pro Max is the latest Flagship phone from Apple. Apple's iPhone 11 Pro Max has a 6.1-inch display size, upgraded cameras, faster A13 Bionic chips, better displays, faster Face ID, and up to 256GB storage. It features a stunning state of the art design but is prone to injury!
Don't worry, Fixerman's got your back! Whether you need an Apple iPhone 11 Pro Max screen replacement, back glass replacement, charging, battery, software or water damage issue with your iPhone 11 Pro Max, we fix it at your doorstep anywhere in Dubai.
We know how it feels to have a broken iPhone 11 Pro Max plus the added cost of repair. We, at Fixerman, are equipped with the best technology for iPhone 11 Pro Max repair service in Dubai plus the additional benefit of your phone repair offered at a competitive price.
With Fixerman your devices are a 100% safe and secure in the hands of our experts. Our technicians are :
Certified with extensive training and experience
Carefully vetted and certified to handle any problem on your smartphone repair
Here are 5 easy reasons why you should choose Fixerman to repair your iPhone 11 Pro Max in Dubai :
We're just a call away from repairing your iPhone 11 Pro Max anywhere in Dubai: We fix iPhone 11 in our solar-powered FixerVan with a mobile lab.
Up to 2 -year warranty: A promise of up to 2 years of warranty and a guarantee that you will never face the same problem again.
Your iPhone 11 will be repaired by using original equipment manufacturer (OEM) grade parts: We only use OEM grade parts to repair your iPhone 11 to adhere to the quality service standards of Apple.
All in one iPhone 11 Pro Max service: We have a 5-step systematic process of repair. (?)
Problem Diagnosis (Broken screen, battery replacement, lens rack, body repair, mic/speaker damage, software issues)
Appropriate repair solution
We Promote Sustainability: We care about our environment that is why our van is completely solar-powered (The first of a kind in the world!)
Enjoy a brand new phone in 3 simple steps:
Visit us anytime between 9.30 am – 9.30 pm in our studio in Business Bay and enjoy a cup of coffee with us while we repair your iPhone 11 or just give us a call on 800 FIXME (34963) or WhatsApp Us (+971 58 933 4963)
Use our free pick up and delivery service for your iPhone 11 Pro Max repair.
We fix, repair and drop your iPhone 11 Pro Max the very same day.