iPhone Back Glass

Repair and Support Services in Dubai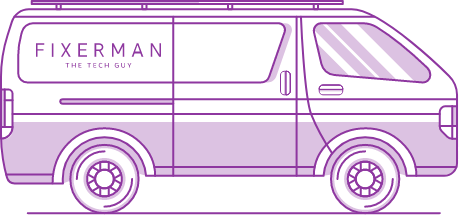 Get Your iPhone Back Glass in Dubai Repaired With Fixerman
Where you can repair iPhone Back Glass in Dubai?
Trust us; your iPhone back glass replacement is entirely in the reliable and trustworthy hands of our tech geeks in our Apple service center in Dubai. They have been extensively trained and have all the essential equipment required to provide the best possible service for your iPhone. In addition to that, they are extremely friendly! If you need more information regarding the cost to repair iPhone Back cover, just fill in this super quick form and we will be in touch with you shortly. No fear, Fixerman is here!
Picture this. You're walking on a crowded street, and people are pushing you from left to right. Some careless person shoves you a little too hard, causing you to trip and fall to the floor. You help yourself up and then you reach into your pocket, checking for the safety of your most valuable possession. But it isn't there! You avert your gaze onto the floor and find your iPhone lying there helplessly, facing upwards.
You sigh in gratefulness as you see no cracks on your screen. You gently pick your phone up and turn it around. However, you're faced with an incredibly unfortunate surprise. You see cracks on the back glass, shaped like lightning bolts, causing an enormous storm in your mind. Do you begin to wonder if it's possible for you to repair iPhone back glass? The period of anxiety and hyperventilation begins, as you frantically type into your search engine, "iPhone Back Glass Cover Repair in Dubai" or "iPhone Repair Near Me" And You find Fixerman!
How much it costs to repair iPhone Back Glass?
1) Regardless of whether you're at the top of Burj Khalifa or stuck in a meeting or just relaxing at home, Fixerman has got you covered. As our iPhone service center is mobile, we can come and fix phones at your convenience anywhere in Dubai Sharjah and soon Abu Dhabi! Just inform us of what your issue is, and our certified technicians will make its way towards you in the world's first solar-powered FixerVan!
2) We use only use original equipment manufacturer (OEM) grade parts to fix your phone. This ensures that your repaired phone functions as good as new because good quality never goes out of style! We can give you the best iPhone glass change price in Dubai.
3) We are completely sustainable! We care about the environment, and we worry when it's dirty, which is why the FixerVan is solar powered (The first of its kind!) Looking for more? We also have an ongoing initiative where we pick up your old iPhone and collect it as E-waste for recycling. We aim to keep our environment as green as we keep your iPhone back cover clean.
4) We are one of the only repair centers in Dubai to provide back glass replacements! Most of our competitors including the Apple Service Centre doesn't offer this service and we can guarantee that we are giving you a competitive price with the highest quality.
Why you should repair iPhone Back glass with Fixerman?
On-site repair –We usually don't offer on-site repair for a broken iPhone back glass as it requires deep levels of technical work which has a total turnaround time of 6-8 hours. So, if you're having a lazy day or can't get out of a commitment, just contact us at 800 FIXME (34963) or WhatsApp us at +971 58 833 4963. Our Fixer Hawk will rush to your location, pick your phone up, fix it and return it to you! Although the pickup and delivery service does come with an additional expense. Just kidding! It's completely free! And no need to worry about how much it will cost to replace your iPhone's glass back in Dubai now! We'll do it for you at a reasonable cost!
You can come to us – You can drop by our studio in Business Bay and have a cup of coffee or tea with us while we repair your iPhone! As always, your convenience and comfort are a priority for us here at Fixerman.