iPhone 7

repair at your Doorstep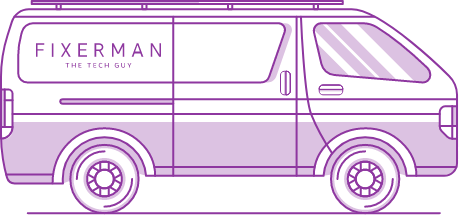 iPhone 7 Repair in Dubai with Fixerman
Fixerman Fixes Your iPhone 7 Anywhere in Dubai.
The iPhone 7 is Apple's lower-cost iPhones, with camera improvement, a glossy black color, faster and upgraded A10 Fusion processor, and improved water resistance implemented through a click-less haptic home button, Stereo sound, and no headphone jack. The iPhone 7 first launched in Sept 2016 and is now Apple's low-cost devices.
If you are searching for iPhone 7 Repair in Dubai, then you have come to the right place. Here at Fixerman, we have the experts who can repair your iPhone 7 anywhere near you in Dubai and get it back to its best! Whether it's your cracked iPhone 7 screen replacement in Dubai, iPhone 7 audio issue repair in dubai,  battery replacement or any part of your iPhone 7 camera that needs repair, we provide the best Apple Support Service & repair the most common issues with every iPhone 7 from our Apple Service Center in Dubai in Business Bay. We also fix all your iPhone 7 problems in just 25 minutes by coming to your location anywhere in Dubai.
Whether you need an Apple iPhone 7 screen repair or you have an iPhone 7 charging or battery issue, software and water damage issue for your iPhone, Fixerman serves you with the best iPhone Repair in Dubai. We know what it's like to not know what to do with your broken iPhone 7. We are equipped with the best technology for iPhone 7 repair service in Dubai! We care about your valuable phone and we want to make sure it's in safe hands.
Be assured with Fixerman, as all our technicians are Fixerman certified with extensive training and experience.  All technicians are carefully vetted and certified to hand any problem on your smartphone repair. Therefore, your Apple iPhone 7 repairing is 100% safe & secure in the hands of these experts.
We know how exactly it feels when you broke your iPhone 7 screen accidentally and the cost of getting it repaired from the service center in Dubai is very high. Be assured as we are giving you the best iPhone 7 repair service in Dubai at a competitive price.
Here are 5 reasons why you choose Fixerman to repair your iPhone 7 in Dubai:
Your iPhone 7 can be repaired anywhere in Dubai: We fix iPhone 7s in our FixerVan. Just let us know what the problem is – whether you want to fix your iPhone 7 broken screen and need an iPhone 7 glass replacement or perhaps it's an iPhone 7 battery change or any other iPhone 7 problem, no worries. One of our certified technicians will come to your location anywhere in Dubai with all the required tools to fix your iPhone 7 in the world's first solar-powered FixerVan.
Up to 2 -year warranty: When you repair your iPhone 7 with Fixerman, with every fix you will get up to 2 years of warranty and we will assure you that you will never face that problem again. If you do however face a problem on your iPhone 7, Fixerman is always there to assist you in any way we can.
Your iPhone 7 will be repaired only by using original equipment manufacturer (OEM) grade parts: We only use OEM grade parts to repair your iPhone 7 to meets quality service solutions. Period.
All in one iPhone 7 service: We have a 5-step systematic process of repair. We diagnose your iPhone 7 after repairing it and make sure that we find the exact problem of your device. We provide all iPhone 7 repair services whether it's an iPhone 7 broken screen fix, iPhone 7 battery replacement, iPhone 7 lens crack, iPhone 7 body repair if your iPhone 7 mic is not working or your iPhone 7 speaker is not working. We also provide a solution for any iPhone 7 software problem. We are in All in one solution for your iPhone 7 repair in Dubai.
We Promote Sustainability: We care about the environment, so our service van is completely solar-powered (It's the first of its kind in the world!) we call it FixerVan! More into it we can pick your old iPhone 7 as E-waste and recycle it to minimize on a pressing global issue.
Do you want to fix your iPhone 7? Just tell us what the problem is on your iPhone 7, and we will get in touch with you right away to solve your iPhone 7 problem on-site anywhere in Dubai.
You can also come to our studio in Business Bay and have a cup of coffee with us while we repair your iPhone 7. Or if you can't leave your office just give us call 800 FIXME (34963) or WhatsApp Us (+971 58 933 4963). We will come to pick your iPhone 7, free pick and delivery service on your iPhone 7 and iPhone 7 Plus Repair Dubai. We will fix it and drop it back on the same day at your location.